Get Fast, Easy, and Affordable Bail Bond Services in Meriden, CT with Connecticut Bail Bonds Group
Fast, Easy & Affordable Bail Bond Services in Meriden
The Connecticut Bail Bonds Group provides timely, professional bail bond services in Meriden, CT, 24 hours per day, 7 days per week, 365 days per year. our local bail bondsman are ready to help. Whether you or your loved one is currently housed at a jailhouse, courthouse or correctional facility.
Trusted Bail Bonds Office Serving Meriden, CT - Available 24/7 to Help You or Your Loved One
Connecticut Bail Bonds Group - Leading Meriden Bail Bondsman Available 24/7
Call today and get a no-obligation, confidential discussion with a bail bondsperson.
Looking for quick and confidential bail bond services in Meriden, CT? Contact our licensed agents today to discuss your options and get the help you need to secure your release from jail. With no-obligation consultations available, we're here to answer your questions and provide the expert support you need to navigate the bail process with confidence.
Connecticut Bail Bonds Group is located at 55 W Main St Suite 203, Meriden, CT 06451. From Tweed New Haven Regional Airport (HVN) head west on Burr St toward Townsend Ave, then turn right onto Townsend Ave. Turn left onto Foxon Blvd/US-1 N, then use the left 2 lanes to turn left onto US-1 N/Boston Post Rd. Merge onto I-91 N toward Hartford, then take exit 18 for CT-691 toward Meriden/Waterbury. Keep left at the fork, follow signs for CT-66 W/Meriden and merge onto CT-66 W/W Main St, then continue straight onto W Main St. Turn right onto Cook Ave, then turn left onto W Main St. Finally, Connecticut Bail Bonds Group will be on your right.
When it comes to securing fast and reliable bail bond services in Meriden, CT, look no further than Connecticut Bail Bonds Group. Our experienced and knowledgeable bail bondsmen are available 24/7, 365 days a year, with a track record of 5-star reviews that speaks to our commitment to excellence. With 15 years of experience and a deep understanding of CT bail laws, we offer the lowest rates possible and flexible payment options to make the process as easy as possible for you. Put your trust in us to provide the high-quality bail bond services you need, when you need them most.
"Connecticut Bail Bonds is a very professional company to work with. If you want a company that is reliable and you can depend on I highly recommend them. In my profession it was difficult finding a company with this type of integrity. I am so happy to have found them and know I have a honest, hardworking company to refer my clients too. My clients are happy and that is my goal. Thank you Connecticut Bails for the outstanding work you do."
-Diane H
"I had a wonderful experience with Connecticut Bail Bonds! Everyone was very knowledgeable and helped me and my friend through a tough time. I appreciate all of the help and great customer service. Thank you!"
Jennifer K.
"Connecticut Bail Bonds Group is there when you need them! Very compassionate and helpful during a tough time in our lives. They went the extra mile to give us the help we needed. For their compassion alone I would give them 5 stars then add on their professionalism and speed of service and they become top notch!"
-Ellen B.
"I first knew about Connecticut Bail Bonds Group a year ago. At first I was sceptical then, amazed by their professionalism. This company knows how to value it's customers and is offering fast and easy services. I myself have been highly satisfied and have multiple times referred friends who, after being in business with them are still thanking me. "
-Laure O
"Connecticut Bail Bonds helped me when I needed to post bail for a close friend. I didn't have quite enough and I was able to get the extra money I needed because of them. Very grateful."
-Rebecca H
"Thank you so much for the excellent service your agents provided. They went out of their way to treat us with respect and made a stressful situation much easier to deal with. From the time of contacting your office, everyone was professional and caring. You went out of the way to explain the process, you stayed in touch throughout the process, and followed up to make sure that we didn't have any problems afterwards. I'd recommend this company to anyone!"
-Amanda P.
"When my brother got in some legal trouble and arrested it was a very stressful time. Connecticut bails bonds Group made the process less painful and stressful. The staff was great, thorough, and got my family member out of jail very quickly. I had no idea what to expect but if you're in need of a bail bondsman look no further."
-Madeline B
"Connecticut Bail Bonds Group is highly professional and reliable. I routinely refer clients to this company and have never heard any complaints, in fact, I consistently hear positive feedback. In an industry that is not the easiest to find honesty and integrity, we have found it here. Will continue to refer with confidence."
-Teresa D.
"We have bonded thru this company several times, and they have been MORE than willing to work with us, and easy to get ahold of any time of day or night. Helped immediately, there was no run around. Great people, in and out! The process was quick & easy!! Very professional!! If you ever need a bondsman, this would be the one to call!!"
-Ashley A.
"I was arrested and it was very late. I just wanted to get home to go to bed. I looked up a local bail bonds company and surprisingly they were open. They were very polite and assured me a surety bail bonds agent would be to me soon. No longer than 15 minutes the officer was letting me know that Connecticut Bail Bonds Group was here to post my bail. I was very happy to get back in my car and get home."
-Thomas R.
"Sheila is an amazingly kind and knowledgeable bail bonds lady! I called their office about getting my husband out and she asked all the right questions to be able to get him released and even offered to come right away. She did an excellent job keeping me calm during what felt like the worst nightmare our family have ever had to deal with. I'll be recommending her to everyone. I give her 5 stars ."
-May W.
"Connecticut Bail Bonds Group always have the best service anyone could ask for and their response time is incredible.  I highly recommend them."I give her 5 stars ."
-Melanie C.
"Great business! Fast and Friendly! Call them for any bond anywhere you may need them! Always dependable! Will do whatever they can to make your day better!!"
-Mark C.
"Connecticut Bail Bonds Group have been there for us each and every time we have called them, and each and every time they have been nothing but professional, patient, understanding and very kind. We would refer them to anyone needing this kind of service."
-Laura S.
"Sheila was the absolute best! Working with her was a breeze right from the beginning. She was very professional, flexible, straight forward and even met us at our house because we weren't sure what direction we wanted to take to get our son out of jail. We felt very comfortable with Sheila and took her advice to get our son out of jail. If we didn't call Connecticut Bail Bonds Group we would have probably made the wrong decision for our son. We are very pleased we did call them and now our son's case has been resolved and he could plan his future accordingly. Thank you Sheila and Connecticut Bail Bonds Group."
-Melissa T.
"We never had to deal with a bail bonds company in our whole life until not long ago and Connecticut Bail Bonds Group treated us with compassion and respect and overall were very patient with us. If you are ever in a bad situation and need to call a bail bonds company these guys won't let you down and you're sure to have an experience above and beyond what you even expected."
-Diane R.
"Excellent service! Sheila was fast, courteous, and charged reasonable prices (far less than others we called). I would refer them around. "
-Matthew D.
"Great customer service! I called around asking for a few quotes on a $50,000 bond and Sheila gave me the best quote with no hidden fees. She's very quick to respond, straightforward and gets everything done fast. Well prepared! I would recommend her!"
-Tanya E.
"Connecticut Bail Bonds Group are very nice guys, they helped me out of a jam without hesitation... if you need help they are the guys to call."
-Edward C.
"If your looking for a reliable source, these guys are definitely the ones you need to call. They are fast, efficient, and meticulous. Thank you for your services."
-Denise M.
"Connecticut Bail Bonds Group was easy to work with, fast service and a did a great job at a very reasonable price. I highly recommend their services."
-Donte P.
"I had a wonderful experience with Connecticut Bail Bonds Group for my son's bail bonds needs. The entire team was very helpful and supportive. We would recommend these guys anytime. "
-Sharon B.
"I haven't personally needed you guys but from what I've heard from my friends you guys are the go to bail bonds company. Thanks for always being there for them."
-Tommy E.
"Sheila was professional, kind and caring. No questions went unanswered through the whole process. I wasn't able to make it to the police department but she showed up immediately. I hope I am never in this situation ever again but if I happen to be she will be the person I call. I recommend her and this company to everyone."
-Deborah C.
"I have used this company several times and they accept the lowest payments allowed by Connecticut and continue to work with us. I would definitely recommend them! You Guys Are Awesome!"
-Jerimiah S.
"Connecticut Bail Bonds Group is very professional, enthusiastic and have the best employees around. They care about you and your family and do whatever it takes to make sure your loved one is out of jail fast. We were very happy with their service. Thank you for taking care of our daughter."
-John C.
"They were very understanding and professional when I needed to get my son out of jail. Hopefully I won't need their services again but if I do I know I can count on them."
-Sarah H.
"Excellent service, very professional and most importantly the payment plan was great for the budget that I was working with. Thank you for getting me back to my family. I will recommend you guys to anyone."
-Daniella S.
"Professional, non judgemental and very helpful. I would definitely recommend their services to whoever needs them."
-David T.
"If you are in a bad situation, these guys will help you out. We have never met nicer people. Thanks for your help."
-Maria S.
"I've had the best experience here. It was my first time dealing with a bail bond situation and everyone here was very helpful and made me feel super comfortable. They were very flexible as well with payments. I would highly recommend them."
-Cindy L.
"Connecticut Bail Bonds Group are the best, kind, quick and considerate. We were faced with an unfortunate circumstance, never having had to deal with a family member being arrested. They made me feel like family, and were able to get my husband out of jail on late Friday evening on the 4th of July weekend. Don't be afraid to put your trust in them."
-Jackie S.
"The staff here were very helpful and offered us many options for bailing my sister out of jail. They made me feel very comfortable by putting my interest first. I would recommend them to whoever needs a bail bonds company."
-Tiffany
"You would have never thought that I would ever needed the assistance of a bail bondsman but we did and the process was unbelievably quick and easy. The staff really went the extra mile to make us feel as if we weren't alone in all of this. Thank you for everything! I recommend them 100%. "
-Beth L.
"Thank you so much for your help Sheila. We are so pleased and happy that you were involved in helping us out. You are a champ Sheila. When we are back in Connecticut I would like to visit you and thank you personally. Thank you soooooo much"
-Sharon H.
"Incredibly professional and effective bonds company. I could not have asked for a better company to assist us during this difficult time in our lives. You guys are amazing and I would recommend you to all who needs you."
-Matthew K.
"Sheila Sanchez was very professional, kind and courteous. I would definitely seek her assistance if the need arose."
-Mary K.
Connecticut Bail Bonds Group is very responsible and respective company. This is a family business and they provide their services leading with their hearts.
-Melissa G.
Best Bail Bondsman in Connecticut!! They were very reasonable and gave great service!!
-Linda B
When my family needed assistance, Sheila was prompt, informative and very helpful. Not an easy job, I am sure, but one Connecticut Bail Bonds Group does exceedingly well.
-Gloria C.
Absolutely the most courteous, professional, and respectful bail bondsman in all Connecticut. They will come to your aid very quickly! I highly recommend Connecticut Bail Bonds Group!! You won't be disappointed!!
-John L.
Sheila was very courteous, helpful and pleasant to work with. I appreciate everything you did for us!!
-Laura M.
Connecticut Bail Bonds Group was fast, efficient, super friendly, helpful, and got the job done when we needed to post a bond for our daughter. Nobody wants to be in a situation to need a bail bondsman but if you need one these are the people to see! Thank you so much Sheila.
-Dante G.
Great company to work with, they truly go out of their way to work with you on a bond. Just a wonderful company. Thanks Sheila for all your help
-Karen M.
If you ever have any bail bonding issues and need to be bonded out this is the place to call. They are fast, they work with you and are very good people.
-Matthew F.
Connecticut Bail Bonds Group are very and helpful. They responded quickly and when we showed up at the police department they had all the paperwork filled out for me before I got there!! Would definitely recommend them if you're needing to post bond for someone.
-Stacy M.
Sheila was very fast and confident with an awesome personality! She got the paperwork done, told me what needs to be done and said have a good day! What a great feeling it was to have my son back in my arms that quick.
-James P.
Connecticut Bail Bonds Group is very professional, kind, compassionate and respectful at what they do! Sheila was very helpful and knowledgeable when it came time for our family to need the support at a very difficult time. I would recommend this company to anyone looking for fast and honorable service during a time in need!
-MaryLou B.
Sheila was very friendly and helpful. We have never been in this situation before and she made it as painless as possible. I would most definitely recommend this service. Thank you Connecticut Bail Bonds.
-Tanya D.
Best in town is Connecticut Bail Bonds Group! I'm not a trouble kid but I made one bad decision that put me in jail. My parents contacted these guys and they got me out right away. Thank you
-David R.
Connecticut Bail Bonds are absolutely amazing people!!! Very helpful. They really care about you and your loved ones! Thank you so much!!!
-Maggie D.
We truly appreciated everything that Sheila did for our son. She was quick and took care of our situation when we needed it. They are the only bail bondsman we would use. We would definitely recommend.
-Sharron H.
Had to bail a friend out and had never done it before. These guys were awesome, very helpful, respectful and sweet. If I ever need this service again Connecticut Bail Bonds Group will be who I use!
-Adam A.
Sheila help me bail out my friend, thanks for the kindness and courtesy.
-John B.
Connecticut Bail Bonds Group responded promptly and professionally. Explained everything in detail and courteous throughout the process. Good work!
-Glen R.
The experience was great. All my questions asked. Thank you for the help.
-Nick B.
Thank you so much for all of your help and kindness.
-Patrick B.
Great people who conduct themselves in a professional matter.
-Brianna B.
Sheila is absolutely AMAZING, I couldn't have asked for a better bonds lady. I would recommend her to everyone!
-Oscar A.
Sheila was very nice, professional and patient in guiding me through the situation I was helping someone with. I couldn't have asked for a better person to help me under the circumstances. I also vey much appreciate knowing his continued support is there if it is needed. Thank you for everything!
-Guy L.
This has been hands down the best experience with a bonds man. When there was no light at the end of the tunnel Connecticut Bail Bonds shined the light. Thank You.
-Michael B.
Great company! Connecticut Bail Bonds Group is a company that cares about every individual it's more than lending a helping hand!!!! The professionalism and prompt assistance from Sheila made the process of getting my loved one out on bail much less stressful. I really appreciated how they handled everything.
-Laurie G.
I consider myself a good judge of character, after meeting and talking with Sheila I can assure you if I'm ever in trouble she will be the first person I call.
-Joshua C.
Sheila is an awesome bonds lady to work with, she is very up front and honest. Worried more about you than just taking your money.
-Edwin C.
All the people here are amazing to work with! Definite first recommendation above all!
-Larry D.
Great service fast and very understanding Sheila was there for us when we needed it.
-Matthew C.
Sheila was very helpful, let us know important information that we needed to know and helped the process move quickly! I would definitely go back if necessary.
-Maria V.
I have worked with Sheila several times over the last few years. I have found her to be very professional. Sheila also has deep compassion and concern for her clients. I would highly recommend them.
-Lena B.
Superior company and even better people that run the company!
-Melanie R.
I have never met such a group of wonderful, caring and amazing people! Thanks for everything guys!!
-Tasha L.
This is the second time I've used Connecticut Bail Bonds and when I say Sheila will always treat you with dignity and respect I truly mean it. While sitting in holding last night I had no worries because I knew she was on it! Thank you again!
-Stephanie W.
Best bonds woman I ever had the pleasure to deal with. Always kept me updated on warrants, court dates everything any time I need to bond out she is quick at responding its good to have someone to help you out in and situation definitely 5 stars
-Joshua B.
I was in jail & not expecting to get out for at least a week. Unexpectedly I was bonded out by Sheila & she made me one of the happiest customers at that moment! I couldn't believe it. I was in that jail cell sad and wanting to be home with my 2 cats & dog. To my surprise, I got what I wanted. Thank you Sheila and Connecticut Bail Bonds.
-Ryan R.
They definitely bring you hope and are very understanding of the situations and will help with payment plans. They are also extremely nice!
-Kevin G.
We had many questions about the bonding process and they were all answered professionally and quickly. The phone was answered promptly (and didn't sound like I was waking someone up at midnight!) I will refer you guy always.
-Carol B.
I was pleasantly surprised by my experience. They truly know their stuff. They clearly had a great rapport with the staff at the jail and in my opinion that resulted in my friend getting released faster than he would have otherwise. Professional and knowledgeable.
-Edward F.
Sheila was great! She is really a good bondsman person and is always willing to help. She listens and hears your story and she isn't quick to judge......I will always recommend them....they are my only choice!!!!!!!
-Tanya R.
Very happy with their service. Went above and beyond. Will recommend to all.
-Victoria B.
The guys at Connecticut Bail Bonds are most reliable bonding company that I'm aware of and they are there when you need them.
-Rafael S.
Very seamless and easy company to use, very understanding of circumstances and prompt to help us out in time of need.
-Virma L.
Sheila and the team are AMAZING, great to be around & always willing to work with you in your situation. If you need to go somewhere for a bail release I highly suggest Connecticut Bail Bonds! Thanks for all you guys do!
-Jeremy B.
Very professional, informative, and very kind. I definitely will recommend them to anyone who needs a bond.
-Lourdes K.
Everyone is very helpful and friendly and the service is great i highly recommend Connecticut Bail Bonds.
-Shannon T.
I feel fortunate to have called the right bail bonds company when I needed assistance during an ordeal that happened during the wee hours of the morning. Even though it was in the middle of the night, Connecticut Bail Bonds Group was quick to respond and were very helpful and explained the process thoroughly. Sheila didn't leave anything out and was very courteous. Give them a call you will be glad you did.
-Bethany R.
This is like no other business I've known!! Connecticut Bail Bonds is not only a blessing to its clients, but is a bright light of hope in our city!!
-Michael D.
Very fast, responsive. Sheila helped us, she is such an awesome person! Was a quick and easy process. Thanks again!
-Mary L.
First time ever needing a bail bond, didn't know where to begin, what to do next, it's a stressful experience but with Sheila's help at Connecticut Bail Bonds actually turned out to be easy and fast. They got me out quick that night. Just a phone call away and the company is 24/7 which is very convenient when you least expect it. Plus I was explained the process of my situation to where I understand and felt more confident in handling my situation. Thank you Sheila!! Thank you Connecticut Bail Bonds !!
-Laurie S.
The professionalism and prompt assistance from Sheila made the process of getting my loved one out on bail much less stressful. I really appreciated how she handled everything.
-Dan T.
I needed help getting a family member bonded and Connecticut Bail Bonds Group was the only one that that would help me. They were very nice and professional. The guy who did the actual paperwork and footwork was great, made me feel comfortable. I hope I never have to need a bondsman again but if I do, id definitely use them again and recommend them.
-Todd B.
Very professional and the only bondsman that came through at 3am! I will highly recommend Connecticut Bail Bonds and will definitely use them(if I need to) in the future.
-Chuck J.
Connecticut Bail Bonds Group is the most amazing bond company. I've never met a more solid and understanding group of people. With my experience they are willing and full such love.. They care about their clients are important to them, more so then other bondsmen.
-Steven B.
I have used many other Bail Bonds company, and this company was the most patient and understanding and respectful. Thank you very much. They will try hard to take care of your needs in a professional manner and help your loved ones get on the right track.
-Mark R.
They get you out quick with friendly and professional service. I would highly recommend Connecticut Bail Bonds Group for all your bail bonds needs.
-Laura T.
I have referred several folks that have been very pleased with there service - highly recommend!!!
-Myra S.
Thanks for the fast and friendly service. Truly the Best bail bond company in town.
-Bonnie B.
I used Connecticut Bail Bonds Group recently and I would definitely use them again,, they were courteous on the phone and very understanding to my needs I was pressed for time and they went over and beyond their duties to help me, I live out of town and was very stressed at the time. I would not hesitate to use this company again!! Thank you so much Sheila.
-Steph P.
Most honest and caring out of all the bondsman i have ever met through the years. Full of integrity and willingness to help in my time of mistakes even when others turn away through judgement she works as diligently as possible to make sure i was released with the utmost speed, pushing the process along. His slogan holds true to it's words: "Call Steve when you're ready to leave".
-Karen H.
Thank you Sheila, you help me when I needed it most. Can't think you enough.
-Manny R.
Sheila and her team have helped me out whenever I find myself in a bind on more than one occasion and I cannot thank them enough for that. They will always have my recommendation to anyone who might find themselves needing a bonding company. Thanks again for everything, Connecticut Bail Bonding should be anyone's go to for bonding services. LOVE YOU GUYS!
-Randolph D.
Amazing company with people who truly care. they have really helped our family out when we needed them the most.
-Gordon T.
Great Guys! The only call you need to make. They are real straight forward and an honest business.
-Mandy S.
My experience with Steve was great! His response time was excellent and he made the whole process easy and comfortable.
-Tammy B.
Types of Bail Bonds We Can Help You With in Meriden, CT
Meriden, CT Bail Bondsman Services
Connecticut Bail Bonds Group knows that speed and reliability are crucial when it comes to bail bond services in Meriden, CT. Our team provides multiple options tailored to individual cases, such as cash bonds, no collateral bonds, payment plans, and federal bonds. We offer affordable rates and flexible payment options available 24/7 to help secure freedom for you or your loved ones. With our experienced team, we'll guide you through the bail bond process in Meriden and the surrounding areas with confidence.
In Meriden, CT, bail bond fees are regulated by the state, and we at Connecticut Bail Bonds Group adhere to these regulations. We cannot charge more or less than what is required by the state, ensuring that our clients receive fair and transparent pricing for our bail bond services.
At Connecticut Bail Bonds Group, we offer 24/7 bail bond services in Meriden, CT to help you or your loved one secure a quick release from jail. Our experienced team is committed to providing affordable rates and flexible payment options to help you through this difficult time.
At Connecticut Bail Bonds Group, we understand that time is of the essence when it comes to securing a release from jail. That's why we make it easy for you to borrow money for bail, with minimal paperwork required. Our process is quick and hassle-free, allowing you or your loved one to get back to your daily life as soon as possible.
Under the 3% bail bond plan, we allow our clients to pay the remaining 7% later based on an agreed payment plan.
Your eligibility for no collateral bonds will be determined by several factors. Just like having bail set by a judge, your previous criminal history will factor into this decision. 
We have weekly, bi-weekly and monthly payment plans available. And the best part is you can spread these payments over 15 months 
How Our Meriden Bail Agents Can Help
Watch our short video regarding Meriden bail bonds to understand how to contact us, what information you will need to have, and where our Meriden bonds agent will meet you. Our Meriden bail agents speak both English and Spanish. Don't hesitate to call us.
Helpful Meriden, CT Bail Bond Information
At Connecticut Bail Bonds Group, we understand that this can be a very stressful time for you. That's why we want to make things as easy as possible. Below, we've listed some of the most commonly used locations and services for those applying for a bail bond in Meriden, CT. If you're ever in doubt, don't hesitate to contact us. We're here to help!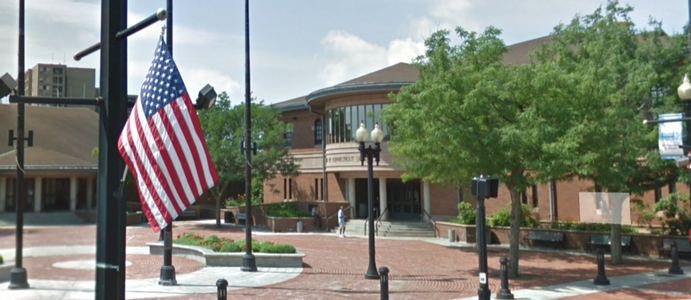 Meriden, CT Superior Court
Geographical Area 7: (Cheshire, Hamden, Meriden, North Haven, Wallingford)
Website: Visit Website
Address: 54 West Main St, Meriden, CT 06451
Chief Clerk's Office: 203-238-6130
Fax: 203-238-6016
Adult Probation: 203-238-5218
Hours: 9:00 A.M. to 5:00 P.M. Doors open at 8:30 A.M.
Public Parking:  Municipal Lot on immediate left after passing the Courthouse. There is a large yellow sign indicating "parking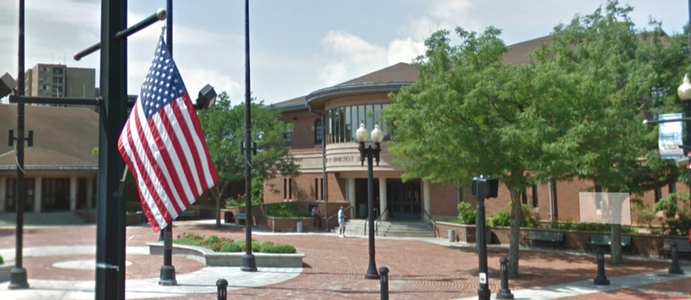 Meriden, CT Police Department
Website: Visit Website
Address: 50 West Main Street, Meriden, CT 06451
Main Phone: (203) 238-1911
Chief of Police: Jeffrey W. Cossette
About: The Mission of the Meriden Police Department is to protect life, safeguard property, and enforce the law in an ethical, compassionate, and constitutional manner while providing community-based, problem-solving police services in an effort to reduce crime, the fear of crime, and enhance the quality of life for all citizens.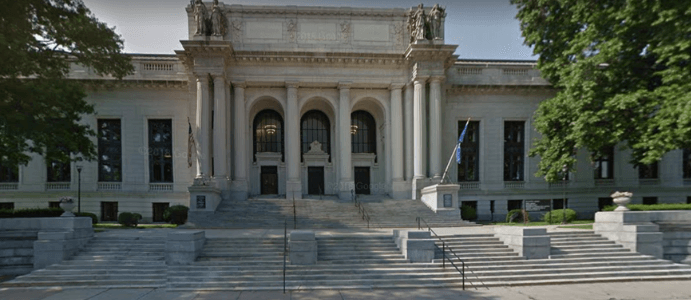 Connecticut Supreme Court
Website: Visit Website
Address: 231 Capitol Avenue, Hartford 06106
Phone Number: 860-757-2200
Hours: 9:00 A.M. to 5:00 P.M. Doors open at 8:30 A.M.
Public Parking: Metered parking is available on both sides of Lafayette Street and Washington Street. A public parking garage is available at 21 Oak Street.
The 6 Simple Steps to Get Bail Bonds in Meriden, CT
Your jail bond will be determined at the location of where the arrest was made by the Meriden Police Department. If you are unable to pay this bond, it is up to the judge to set a final bail that you are required to pay.
Our bail bond business is more than willing to assist you if you find yourself in the unfortunate situation in which you need to bail a friend or family member out of jail. The Connecticut Bail Bonds Group can help you navigate the bail process by connecting you with a Meriden-area bail bond agent. This bail agent will ask question you about specifics regarding the individual who has been arrested. These questions will involve basic information, such as full and legal name, date of birth, reasons for arrest and related charges, and the jail location. The inmate number is particularly helpful if the arrested individual is being housed in a correctional facility. The Meriden bail agent can handle the case more effectively and efficiently if you can provide this information.
Following the initial call, you will meet personally with one of our Meriden jail bondsman. The bonding agent will walk you through the bond process covering all of the necessary steps for the court system, including the financial ins and outs and acceptable payment methods. Collateral, which could include items such as jewelry, a car, or a house, will also be collected by the bondsperson at this stage of the process if necessary.
After the bail bond is delivered to the Meriden-area jail, courthouse, or correctional facility, one of our Meriden bond agents will travel to the location in order assist in processing and completing the paperwork. This process will take about 30 to 40 minutes. When the paperwork signed and filled out, the individual who has been arrested will receive their release papers. At this point, they are welcome to return home. The Connecticut Bail Bonds Group offers a 24 hour bail bonds service in the Meriden area to ensure that your loved one is covered at all times.
At a predetermined date and time, the arrested individual appears in court. Assuming they arrive on time and as scheduled, the process should go smoothly. If not, the process will likely become complicated. Should this be the case, our bail bond company will be forced to send a bail bond agent to locate the individual, at which time they will be returned to jail.
Regardless of the final verdict, once the case wraps up, the bond will be exonerated.
Fianzas disponibles las 24 horas en cada ciudad de CT
Los precios más bajos de bonos de fianza de CT, planes de pago fáciles
About Connecticut Bail Bonds Group in Meriden
Choose Connecticut Bail Bonds Group for Easy, Fast, and Professional Bail Bonds in Meriden, CT
Bailing someone out of jail is often an intimidating and unsettling experience. As such, our Meriden bond agents give every case the attention it deserves. The Connecticut Bail Bonds Group offers 24 hour bail bonds to assist Meriden-area residents. Our team works toward making sure that every one of our clients fully understands the bail and bond process and procedures by breaking down the information into easy-to-understand steps. It is important to us that you stay informed and updated on the latest information so that the process runs as smoothly as possible. When you work with our team, you'll stay apprised of the general ins and outs surrounding the case. You'll also understand the defendant's obligations, the law, and standard arrest procedures. Our Meriden bond agent will walk you through the bail bond process if you have questions.
No matter the bond amount, small or large, Connecticut Bail Bonds Group is here for you.
Trustworthy Bail Bondsman in Meriden, CT
You might be thinking, "is there a bail bondsman near me that I can trust, or where can I even find bail bonds near me?" When you're in a desperate situation and need compassion and help, Connecticut Bail Bonds Group is there We are dedicated to sending you professional and honest local bondsman in your area. The bail bonds community is often deceptive and dishonest, and we seek to rise above the unsettling practices so often seen in this line of work. Our team does not provide services solely for financial gain. Our trustworthy agents truly seek to help all of our Meriden clients by providing quality service. We offer Meriden bail bond services that are affordable, ethical, and accessible to those in need. We are dedicated to earning your trust and your business.
We Take Care of You During the Bail Bond Process
It takes a toll on all involved when one needs to bail someone out of jail. It is extremely mentally, emotionally, and financially taxing process. If you have found yourself in this situation and are seeking an ethical bondsperson, Connecticut Bail Bonds Group in Meriden is here to help. We understand the stress that can come from this process. By developing quality relationships and always moving toward a positive outcome, we are committed to serving our Meriden clients at these pivotal moments. We wish to serve your legal and emotional needs while providing you with an affordable bail bonds experience.
The Connecticut Bail Bonds Group is comprised of an exceptional team of Meriden bondspeople. Each one of us works to give customers quality work, attention, and positive outcomes. We can help you with a bail bond in Spanish, too, as we operate with many bilingual staff members who speak both English and Spanish. Our company is a local business in the Meriden region, and we aim to provide cost-efficient bail bond services all day, every day. Connecticut Bail Bonds offers you the best bail bonds service. If you would like to learn more about our services or speak to a bail agent, you can call us at our bail bonds number: (203) 446-2272
We provide fast and affordable bail bonds services  to all areas of Meriden Connecticut including all of the following Meriden ZIP Codes:
06037, 06450, 06451
Local residents can rely on us for 24 hour Surety Bonds for all of the following Meriden neighborhoods
South Meriden, Ceppa Field North, Research Pkwy / E Main St, Yale Farm East, Meriden Northeast, City Center, Washington Park, Yale Farm / Ceppa Field, Ceppa Field Northwest, South Meriden East
Stay Informed with The Latest Local Meriden News Updates
At Connecticut Bail Bonds Group, we understand that staying up-to-date with the latest changes in the bail bonds industry is a major concern for our clients in Meriden, CT. Even a small alteration in the bail process could impact who is eligible for a bond or the amount of fees required. That's why our team of experts is committed to keeping you informed about any updates or news that may affect you. You can trust our Meriden bail bonds office to be your reliable source for all things bail-related.
Fight and Fire in Meriden Sends One to Hospital, Police Investigating – Early Thursday morning, a fight and a fire occurred in a multi-family home on Colony Street in Meriden, CT. A female with an apparent head wound and a burned arm was found inside the building. She was taken to the hospital for treatment. The Meriden fire marshal is investigating the cause of the fire, while the police are investigating the incident and have requested information from anyone involved. Meriden firefighters extinguished the fire and rescued two residents from the building. The Wallingford, Southington, and Berlin fire departments provided mutual assistance.
Stolen Vehicle Crashes into Home in Meriden, Juveniles in Custody – A stolen vehicle crashed into a house on Harrison Street in Meriden, CT, after hitting another vehicle and fleeing the scene. The three male juveniles who were in the stolen car fled the scene on foot but were later taken into custody. No one was injured inside the home, but it did sustain significant damage. The driver will be admitted to a juvenile detention center, while the other two juveniles will be released to their parents. Charges have been filed against all three.
Pedestrian critically injured in hit-and-run crash in Meriden – A hit-and-run accident in Meriden, CT has left a woman in critical condition. The woman was hit by a car while speaking to her friend who was parked in front of her home. The driver of the car fled the scene, but a witness followed the car and helped police locate it. The driver has been identified, and the case is under investigation.
Nearby Connecticut Bail Offices